3. Physics 1945-1990, new physics chairs, new large department
The 1932 introduction of engineering physics had strengthened physics at KTH and in the 1940s a second chair in physics was proposed. An open position as reader was filled in 1946 by Jonas Linde; later, in 1961, he was appointed as full professor. Parliament decided in 1949 to open a new physics chair that got the name "physics II". Of the six applicants Kai Siegbahn (1918-2007) was found to be the most qualified. Following an extended discussion in the faculty - with recorded statements - Erik Ingelstam (1909-1988) was placed second. Siegbahn took up his chair in 1951 and left it for a chair at Uppsala in 1954. Siegbahn received the Nobelprize in physics in 1981 "for his contribution to the development of high-resolution electron spectroscopy".
Borelius reached retirement age in 1955 and therefore two chairs were opened jointly. Erik Ingelstam was placed first and as second (after that Kofoed-Hansen took back his application) Einar Lindholm (1913-1990). When Ingelstam retired in 1975 Klaus Biedermann was appointed professor in physics in 1978 (the section took the name physics II) and when Lindholm retired Peter Erman was appointed professor in physics, specifically molecular physics (the section was named physics I).



Institute for optical research, IOF
IOF was a resource for research and developments in optics, partly supported by industries, partly by the state. Ingelstam led the organization of IOF and the government decided on the bylaws in June 1955. He directed the institute at KTH from 1949 until his retirement in 1978. In recognition of his achievements Ingelstam was awarded the 1978 "KTH stora pris" (KTH large prize). The principals of IOF were the Foundation for Swedish Optical Research with about 30 membership companies and the state. Klaus Biedermann took over as IOF director in 1979 and remained until in 1997 IOF was reorganized and taken over by the company Acreo. The optics section, physics II, together with IOF had an extensive activity in different areas of optics. One example is a project "optical communication", a collaboration between IOF, Ericsson, Telia and financed by STU, an administrative agency. In 1996 there were about 60 staff at physics II of which 30 at IOF. Many PhD students were educated.
Already in 1961 a third physics chair was opened, this time in solid state physics. Jonas Linde (1898-1986), who had a position as reader at the physics department since 1946, was called upon and maintained the chair until retirement in 1964. It was pointed out that a fast appointment was important because a new physics building at Teknikringen 14 was under construction.
In 1969 Lennart Huldt was appointed as reader in solid state physics of electrons. Hulth had earlier been a staff member at IOF when Ingelstam was director. This section got the name physics III. In 1978 the Huldt's position as reader was changed to a chaired professorship.

Also in 1969 a position as reader in physical measuring technique and computing was opened (this section got the name physics IV) and Nils Åslund was appointed. This position was changed to a professorial chair in 1980.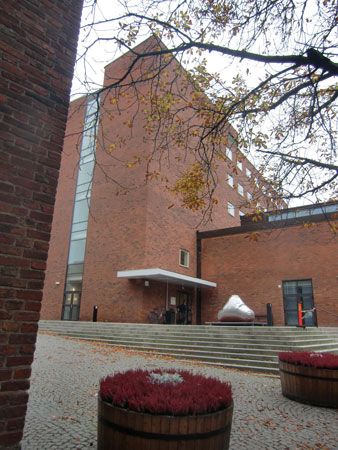 A new physics chair was added, this time in applied physics. Staff at the department were reorganized into a technical faculty and appointments were overseen by a group of professors, lecturers and students. The faculty of engineering physics suggested to appoint Sigvard Thulin (1923-2002) who maintained the chair 1968-85. However, Thulin was partly on leave for a position at AGA.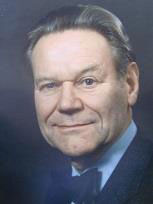 A large department 1965
Before 1965 each section with a chaired professor was a department. However, in 1965 a common department for physics was made. At the end of the 1960s the following sections were part of the physics department: Physics I (Lindholm), Physics II (Ingelstam), Physics III (Huldt), solid state physics (Åström), applied physics (Thulin) and photography (university lecturer Lars Olof Hendeberg (1924-85), appointed in 1966).
Photography has a long history at KTH. John Hertzberg (1871-1935) was appointed to docent of photography in 1921. He was famous for the successful developments in 1930 of the negatives from the Andrée polar expedition 1897. Helmer Bäckström was professor of photography 1948-58, When Bäckström retired the chair in photography was transformed into a lectureship hold by Hendeberg Bäckström planned the third floor of the physics building Lindstedtsvägen 24 with special dark rooms for the teaching of photography that was part of the engineering physics curricula.
Material physics 1985
In 1983 it was decided that one of the chairs in physics should change direction and be opened in "material physics, in particular non-metallic material". Appointments were now dealt with in an appointments committee. Anders Flodström was appointed to the chair.
Reactor and neutron physics
Karl-Erik Larsson had the chair in reactor physics 1962-1989, at the department for reactor physics. When Larsson retired, the chair was changed to a chair in neutron physics, now at the physics department. Ulf Dahlborg had this chair 1989-99.
Chair in technical physics
There was a professorship in technical physics 1941-1953 held by Ernst Weibull (1887-1979).